Our AC Repair and Installation Services in Fort Worth, TX, and the Surrounding Areas
Residents of Fort Worth, TX and surrounding areas are all too familiar with the need for reliable air conditioning during the warmer months. The staff of Texan Heating and Air has experience working with all major air conditioning brands, and we're always glad to help our customers select the right cooling units for their needs.
The Many AC Issues That We Handle
Whether your air conditioner is making strange noises, failing to produce cool air, or not running at all, our crew will quickly get to the bottom of the problem. We're standing by to add coolant, change out filters, make necessary mechanical repairs and even provide complete system replacement if that's what it takes to restore indoor comfort for you and your household or business.
Reasons That Professional
AC Installation is Best
Even a modestly sized air conditioner unit represents a significant investment for the property owner, and such a valuable commodity deserves the care and attention of an expert installer. Proper installation will also go a long way to promote effective long-term operation.
Potential Signs of AC Problems
A few possible indicators of looming air conditioning problems include the presence of ice on the exterior unit, lack of cooled air when the system is running, frequent system short-outs, foul-smelling air, and noisy unit operation. Unexplained moisture associated with the unit is another common problem that requires our immediate attention.
Frequently Asked Questions on AC Repair and Installation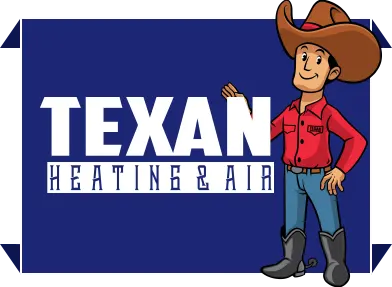 Schedule an Appointment With Our Team

If you're located in or around Fort Worth, feel free to contact Texan Heating and Air to learn more about our AC installation and maintenance services today. You may also schedule a repair or installation appointment when you call us or fill out the online form.