The Leader in Heating Repair and Installation in Fort Worth, TX, and Neighboring Areas
If year-round indoor comfort is important to you, you won't go wrong by counting on the skilled team from Texan Heating and Air. We can keep older heating units running as needed through many more winters to come, and we provide professional installation of units for newly constructed homes. We also offer a highly sought-after combination of fast service and accurate results when it comes to heating repair and installation in Fort Worth, TX, and nearby areas.
Common Heating Issues That You May Encounter
Some of the most common heating unit problems that we're called on to address are thermostat failures, fan breakdowns, and age-related troubles. We can also track down electrical issues, fix faulty pilot lights, change out filters and take care of general maintenance to prevent untimely system replacement.
Reasons to Utilize Professional
Heating Installation Services
No one wants their heating system to fail suddenly in the dead of winter, and proper installation can help to prevent this from happening. Hiring us to provide our detail-oriented installation services can also promote efficiency and extend the lifespan of a heating unit.
Indicators of Heating System Problems
The most obvious sign of a heating system problem is a complete failure to deliver warmed air to the vents. This could be caused by duct blockage, temperature control unit issues or other reasons. Additional problems to watch out for include a moldy or burning smell, frequently tripped breakers, and intermittent cycling of the system.
Frequently Asked Questions on Heating Repair and Installation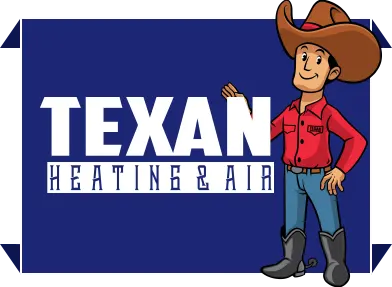 Count on Our Heating
Experts Today

Make Texan Heating and Air your choice for heating system installation and repair by contacting us to set up a service call anywhere in or around Fort Worth. Feel free to call us or fill out the online form today!